Thank god Earth Day is every day at EcoStiletto, because we're going to need 365 of them to read all the amazing sustainably-minded books that just came out. From small lifestyle changes, to the new eco-teen scene to ultra-easy organic cooking (complete with composting tips)-there's something for everyone in this fresh crop of green reads.

Conscious Cooking
Forget Kermit. With Anna Getty Easy Green Organic (Chronicle Books, 2010) as your guide, it is easy
being-and grocery shopping and cooking and, best of all, eating-green.
Before we even got to the droolfully divine recipes, Getty got us all geared up with practical tips on greening our kitchen, decoding common packaging labels and composting our kitchen scraps (which, in her emphatic words, are "not garbage" but "a banquet loaded with life-sustaining food that the microorganisms in your composter will just love to get a hold of").
Then there are those recipes we mentioned earlier. Amazing. No steamed tofu or bland broths here, baby. We're talking Baked Portobello Mushrooms with Avocado and Pesto (p. 150). Seared Bay Scallops with Orzo and Sun-Dried Tomato Cream Sauce (p. 163). And to satisfy a sweet tooth, Espresso Chocolate Pudding Cake (p. 225). (C'mon, chocolate, pudding and cake, all in the same dessert? Someone's got our number.)
Recipes this mouth-watering must be complicated, right? Wrong. Many of Getty's recipes can be made in minutes, and require little more than a knife and a pot or pan to prepare. (Which is great, because that's pretty much what we've got in our now much more eco-friendly kitchen after tossing out the Teflon.)
Beautifully photographed and impeccably laid out, Getty's green-cooking bible had us convinced we could cook well, eat better and sustain the planet while doing it. And you know what? She was right…
Badass Girls, Goodass Deeds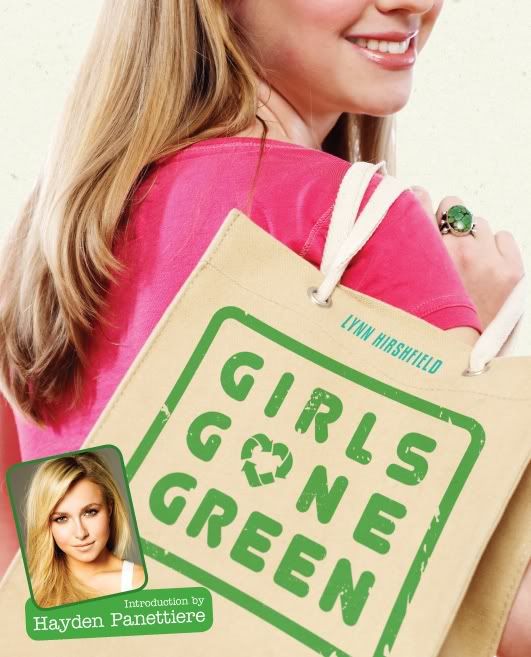 Inspired by her work on Nobel laureate Al Gore's eco-opus, "An Inconvenient Truth," Hollywood exec and children's book author Lynn Hirshfield puts young ecoistas in the spotlight with Girls Gone Green
Whether you happen to be a teenager or just act like one, Hirshfield's collection of real-life stories from young women who have made a difference in their environment is inspirational, exciting and way fun to read.
Take the tale of 17-year-old Erin Schrode, who got so disgusted with the glut of yuck in all those cosmetics she'd started using at age 13, that she started an organization-Teens for Safe Cosmetics (now Teens Turning Green and fought backlash from the beauty products lobby to rally her peers to the cause of safe, eco-friendly personal care products.
Or Rebecca Chan, also 17, whose dedication to rainforest protection started with a school report and led her to Costa Rica, the co-presidency of her school's rainforest conservation club and, ultimately, a presentation at 2008′s G8 Summit in Japan, as a designated California Climate Champion.
Hirshfield's book abounds with stories like these, along with eco advice from young celebs like Alicia Silverstone, Mischa Barton and Hayden Panettiere, who penned the forward.
Don't forget-2010 graduations are coming up. Can you think of a better gift for the aspiring ecoista in your life? We can't.